Testimony
I was there for a faceoff with God...to say to Him that I have tried but You were silent. Now I will die and it will be Your fault God. You ignored my cries....but God showed up and saved my life.....
Read More...
£15.99 approx R354.85
View on store
Please note...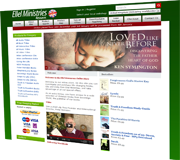 Products are sold through our dedicated shop website which will open in a new window when you add this product to your basket.
Journey to Freedom Book 5 - Jesus, Healer & Deliverer
Book 5 focuses on all the different healings that Jesus carried out and on the different healing principles we can learn from the things that Jesus said and did when healing and delivering people. We see how Jesus seamlessly blended inner healing, physical healing and deliverance ministry as He sought to bring wholeness into the lives of those who came to Him.
To preview this book, click the icon below.