Testimony
I was there for a faceoff with God...to say to Him that I have tried but You were silent. Now I will die and it will be Your fault God. You ignored my cries....but God showed up and saved my life.....
Read More...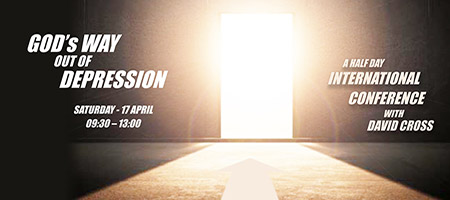 Half or One Day Event
Dates:
17 April 2021
(Sat)
Venue:
Online_Shere
Book Online
God's Way Out of Depression with David Cross
International Conference - Online
The Bible shows us that God has an answer to depression, which is probably today's most common human disorder in terms of the number of people affected worldwide.
EITHER:
FREE Half day ONLINE 09:00-13:00
Join us from the comfort of your home as we look at the healing ministry of Jesus, to explore the roots of this debilitating disease and then to travel with Him on a journey of freedom.
This half day course is not about a technique for healing but will seek to point the listener towards powerful biblical principles which can open the door to God's way out of depression.
Click here to register and receive the Zoom link for this FREE event.
OR
Full Day with Workshop and Lunch 09:00-16:00 for R200
Join us at Shere House, Pretoria as David shares online, to look at the healing ministry of Jesus, explore the roots of this debilitating disease and then spend some time within a beautiful creative environment and allow God to meet you on this precious journey of recovery.
Sat 17 April, God's Way Out of Depression Workshop, with David Cross. Registration at Shere House @ 9:00, Start 9:30 to 16:00
For this option please click' BOOK ONLINE' directly below here, to pay your R200 - this includes lunch, refreshments and creativity materials
Please Note that there are limited seats to attend on base as strict social distancing is adheared to!
Book soon if you wish to join us on base.
Book Online
Back to top
This event is held at Online_Shere but is run by Ellel Shere House (Pretoria)
Getting There
Online_Shere
Shere House
Pretoria
Booking Options
[ZAR] South African Rand
Price Per Person
R200.00
Estimate prices in your local currency:
Call for help or info
+27 (0)12 809 1172
Click on an event date to see prices and accommodation options at other centres...