TESTIMONIES

for Ellel Pierrepont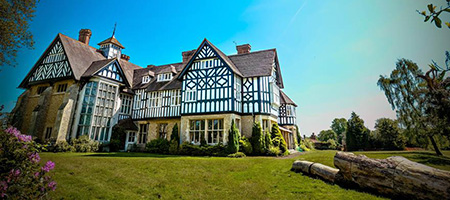 Ellel Pierrepont
Frensham Road, Frensham, Farnham, Surrey, GU10 3DL, UK

Tel:+44 (0)1252 794060
Ellel Pierrepont Travel Information
To see Ellel Pierrepont on the map, click the link in the grey box above right.
By Rail and Taxi
The closest station to Ellel Pierrepont is Farnham. Trains (heading towards Alton) leave London's Waterloo Station approximately every 30 minutes and the journey takes about 55 minutes to Farnham Station. National Rail Enquiries is a useful website for finding train times and routes.
Farnham station is approximately 3 miles from Ellel Pierrepont, which you can reach by taxi or bus.
Taxis are available at the station or by telephoning:
Home James 01252 722296
Farnham Station Taxis 01252 735735
Sapphire Taxis 01252 717100

The cost is approximately £10.
The number 19 bus goes from Farnham station and stops just outside Pierrepont. It runs every hour but there is no service on Sundays. It is cheaper than a taxi (approx £3.20 one-way) but you may be waiting a while for it to arrive!

By Road
By Road from the East/London/M25
Leave the M25 at J10 west on the A3 towards Guildford. Bypass Guildford and turn onto the A31 towards Farnham. At the roundabout approaching Farnham, continue on the A31 (follow the signs towards Farnham Station) and turn left at the traffic lights. Take the first right (just before the station, before the level crossing) and turn left at the T-junction. Stay on this road (A287 towards Hindhead) for about 3 miles – Pierrepont is on your left, directly opposite the hotel.

By Road from the North/North East
Leave the M3 at J4. Follow the A331 south until you join the A31 towards Farnham and continue as above.

By Road from the West
Approach Farnham on the A31 but stay on the bypass until the second set of traffic lights, where you turn left towards Central Farnham. Follow the road as it bends left, then take the left fork. Continue straight on this road (the A287 towards Hindhead) as above.

By Road from the South
From the A3, join the A287 at Hindhead, north towards Farnham. Follow the A287 for about 5.5 miles, Pierrepont is on the right directly opposite the hotel.
By Air
The closest airport to Ellel Pierrepont is London Heathrow (www.heathrowairport.com). It is approximately 35 miles from Ellel Pierrepont with an approximate driving time of 45 minutes. The other airports are London Gatwick (46 miles away) , London Luton (63 miles) and London Stansted (92 miles). Please be aware that travelling from these airports (by bus, train or taxi) can be expensive so we recommend you fly to Heathrow if possible. If you are travelling from the airport by train you will need to request Farnham Station. From there you can take a taxi to Ellel Pierrepont (see contact details above). Ellel Pierrepont is approximately 3 miles from Farnham station.