Testimony
I signed up for the 365 Ellel course about two years ago and I am still not finished on the course, however, about a year ago I was set free from a spirit of insecurity through personal ministry at a church one evening. ....
Read More...
CA$13.33 (CAD)
View on store
Please note...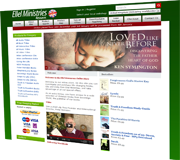 Products are sold through our dedicated shop website which will open in a new window when you add this product to your basket.
Intercession & Healing
This book is for ordinary people in their walk with an extraordinary God. It is about breaking through with God in the most difficult of life's issues. The author explains in down-to-earth, practical terms about: Godly order, anointing, strongholds, discernment, the human spirit, faith and healing, covenant, angels & demons and much more. After decades of ministering to the needs of the hurting, ranging from severe mental health issues to physical healing, Fiona has learnt powerful principles of intercession and healing. In this essential book, she conveys her passion that the healing ministry is an integral part of Christian growth and shares a wealth of practical, hard-won experience.