£1.99 approx CA$3.47
View on store
Please note...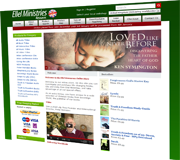 Products are sold through our dedicated shop website which will open in a new window when you add this product to your basket.
Truth & Freedom 54 of 55: Healing For Indigenous Peoples - Audio CD
Speaker: Peter Horrobin
77 mins
This moving CD will give you a deep understanding of the suffering some indigenous people groups go through and how the consequences of sin are passed down through the generations. Peter clarifies God's spiritual law of sowing and reaping and gives vitally important teaching on how we can distinguish between God's kingdom culture, culture which is to be respected as part of an individual's unique human identity, and demonic culture.

Peter shares amazing stories of how God led him in healing ministry to the Aboriginal people in Australia and explains how rejecting the identity, religion and traditions of people and stealing their land leads to serious consequences such as hopelessness, isolation, false guilt, shame and rebellion.

Peter concludes by reminding us that we need to be cleansed from any generational attitudes of hatred which are hidden in our own hearts before we earn the right to minister healing to victims and restore them to their rightful identity.