£3.59 approx CA$6.23
View on store
Please note...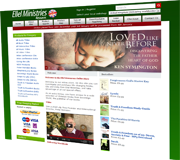 Products are sold through our dedicated shop website which will open in a new window when you add this product to your basket.
Truth & Freedom 53 of 55: Deception and Mixture In The Church - MP3 Download
Speaker: Peter Horrobin
77 mins
This vitally relevant and important teaching will help you to recognise the difference between genuine works of the Holy Spirit and deceptive signs and wonders from the enemy. Peter shows us how to be obedient and follow scriptural guidelines from the Old and New Testament and particularly the words of Jesus.

Peter shares many stories from the steep learning curve God took him through as he started out in the healing ministry. Even healings must be tested to see whether they are from God. The challenge to each one of us is to examine ourselves to see whether we are more attracted to the supernatural than to a relationship with God.