£3.59 approx CA$6.24
View on store
Please note...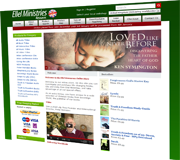 Products are sold through our dedicated shop website which will open in a new window when you add this product to your basket.
Truth & Freedom 51 of 55: Freedom For God?EUR(TM)s People - MP3 Download
Speaker: Johannes Facius & Eliyahu Ben Haim
55 mins
This CD will help you to understand the recent miraculous return of Jewish exiles to their Promised Land and how God has called Christians to be a part of His purposes.

Johannes shares how God gave a vision for helping Soviet Jewish people to return to Israel, the Promised Land, and then brought it into being at the most unlikely time of the Gulf war. He brings biblical teaching on how God brought about the return of His people from exile in the past and what we can learn about co-operating with God.

Eliyahu shares about what's happening in Israel now that so many Jewish people have returned. He teaches about the kingdom dimension and how God's still working out His purposes.