£3.59 approx CA$6.23
View on store
Please note...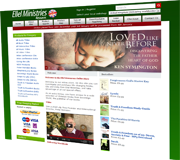 Products are sold through our dedicated shop website which will open in a new window when you add this product to your basket.
Truth & Freedom 49 of 55: Creativity And Healing - MP3 Download
Speaker: Fiona Horrobin
59 mins
This CD will open up exciting new dimensions for healing and restoring wholeness to your God-given identity. Fiona shares how God birthed in her the vision for healing through creativity and drawing on her vast experience of helping deeply damaged people imparts something of God's heart for His children and His desire to bring freedom and build new things into their lives.

Fiona shares how God uses normal ways, which might not seem spiritual to us, to bridge the gap from head knowledge to a heart knowledge of Himself. Her teaching presents answers to the deep cry of the heart "who am I and why am I here?" She explains how through creativity you can be set free from the bondages of control, fear and low self esteem and find your true self.