£3.59 approx CA$6.26
View on store
Please note...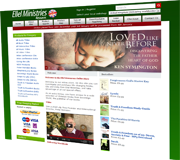 Products are sold through our dedicated shop website which will open in a new window when you add this product to your basket.
Truth & Freedom 44 of 55: Ministry to the Dying - MP3 Download
Speaker: Fiona Horrobin
73 mins
This vitally important CD cuts through the fears surrounding the process of dying and will teach you how to lovingly, and sensitively, minister to those who are soon to pass from this earthly life.

Fiona explains that, as Christians, we need to gain an eternal perspective of what death really means. Our life is a preparation for something greater.

It's a very spiritual moment as we pass through the gateway into the Lord's presence and the timelessness of eternity.

Fiona teaches Biblical truths about death and shares from personal experience how many people have received the abundant life of Jesus, even in the midst of terminal illness.

Fiona teaches on the ministry issues and needs which must be faced, the kind of prayers we can pray, and how to bring the right comfort and reassurance.