£3.59 approx CA$6.24
View on store
Please note...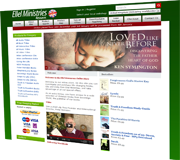 Products are sold through our dedicated shop website which will open in a new window when you add this product to your basket.
Truth & Freedom 43 of 55: Sitting at the Feet of Jesus - MP3 Download
Speaker: Johannes Facius
56 mins
This CD will powerfully challenge you to examine how you are living your Christian life and what your priorities are.

Johannes shares how he had to sit quietly at the feet of Jesus for 3 whole weeks in a pastors' conference, and how this experience changed his life dramatically, as he learnt that God could do it without him!

Many Christians find their identity in what they are trying to do rather than who they are in Jesus. As a result they live by their own efforts and not by grace and this is why they suffer discouragement, frustration, oppression and burnout.

With passion and humour Johannes brings biblical teaching on this subject and shares his own testimony of healing from severe depression.

As you sit at the feet of Jesus you can receive from Him. As you respond in obedience the outcome will be fruit which lasts throughout eternity.