£3.59 approx CA$6.25
View on store
Please note...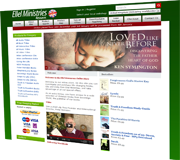 Products are sold through our dedicated shop website which will open in a new window when you add this product to your basket.
Truth & Freedom 40 of 55: Obsessive, Compulsive & Attention Deficit Disorders - MP3 Download
Speaker: Jill Southern
65 mins
This CD will give you valuable guidance of how to reach out and help those suffering from obsessions, compulsions and Attention Deficit Disorder.

Jill shares how to understand and have compassion upon those coming for help - whose lives are controlled by obsessive and compulsive behaviour patterns.

To bring freedom and victory we need to ask the right questions and find the underlying root causes.

It's dangerous to remove behaviour patterns without dealing with the issues of trust and faith in God. Discipling is needed before bondages can be broken effectively.

Jill also gives insight into Attention Deficit Disorder and how we can find appropriate ways of praying with children who have it.