£1.99 approx CA$3.46
View on store
Please note...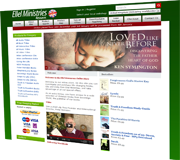 Products are sold through our dedicated shop website which will open in a new window when you add this product to your basket.
Truth & Freedom 38 of 55: Reaching Young People for Jesus - Audio CD
Speaker: Rev. Eric Delve
70 mins
In this dynamic CD Eric Delve exhorts you to have more passion in your Christian life.

Although aimed at leaders in youth work, the teaching on the four challenges of integrity, culture, relevance and balance are for all Christians.

He asks challenging questions like: Can we be God's love letter to those around us? Are we the 'Good News' for others? How do we counteract the surrounding influence of society with its ungodly values?

Eric concludes by emphasising that Christian community needs the lordship of Jesus and asks whether we communicate the Gospel effectively.