£1.99 approx CA$3.47
View on store
Please note...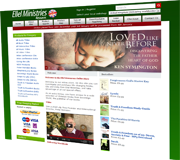 Products are sold through our dedicated shop website which will open in a new window when you add this product to your basket.
Truth & Freedom 34 of 55: Discernment & Deception - Audio CD
Speaker: David Noakes
75 mins
This bold and uncompromising teaching will help you guard against being deceived by false doctrine and prophecy which is sweeping through charismatic circles in the Church today. Many are confused by what they hear and find it difficult to distinguish between true and false, right and wrong.

David explains how deception can be introduced through undue emphasis on one particular verse of scripture or through spiritual allegory.

He encourages us to be strong in the Lord, through knowing His Word, so we can fully test all things. We have to find God's perspective and resist unbiblical viewpoints.