£3.59 approx CA$6.25
View on store
Please note...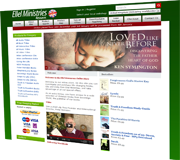 Products are sold through our dedicated shop website which will open in a new window when you add this product to your basket.
Truth & Freedom 32 of 55: Healing & Deliverance Ministry in the local church Part 1 - Audio CD
Speaker: Bishop Graham Dow
50 mins
This CD is Part 1 of a two part series which will encourage, inspire and help all those seeking to establish a healing ministry in the local church setting.

Bishop Graham Dow's passionate vision is to see healing and deliverance as a routine part of the western Church. His truly compassionate and empathetic style of communication will challenge you to look at your world view and compare it to that of other cultures and that of the Bible.

In this CD Bishop Graham shares in an honest, and often amusing, way about his own journey and how he was led into the healing and deliverance ministry.