£3.59 approx CA$6.25
View on store
Please note...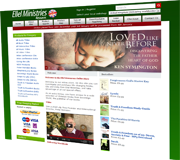 Products are sold through our dedicated shop website which will open in a new window when you add this product to your basket.
Truth & Freedom 30 of 55: What are Your Giants? - MP3 Download
Speaker: Jill Southern
46 mins
Do you want to overcome those giants in your life?

Teaching on this CD will encourage and help you to respond to God's calling on your life. Drawing on the story of David and Goliath, Jill explains some of the 'giants' that you may have to face and overcome in order to enter into the destiny that God has for your life.

Before facing Goliath, David had to deal with the 'giants' of family disapproval, tradition, general consensus and distraction. As you recognise and deal with similar giants in your life you will be set free enabling you to use your God given gifts and talents to accomplish God's plans and purposes for you life.