£1.99 approx CA$3.46
View on store
Please note...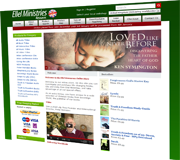 Products are sold through our dedicated shop website which will open in a new window when you add this product to your basket.
Truth & Freedom 28 of 55: Living in Vision - Audio CD
How can you get your own unique vision from God? Peter Horrobin's teaching on living in vision will encourage you to be seeking God's plans and purpose's for your life. Peter teaches that you are unique and encourages you not to simply try to imitate what someone else is doing but to seek you own vision from God. While the enemy will certainly oppose Godly vision, you can be assured that God will be with you in the difficulties. Peter stresses the importance of good foundations. Living in vision is often like putting the next brick in place on solid foundations. Living in vision involves not just believing in the truth of the word of God but trusting in the God who reveals the truth and being willing to move out in obedience to His leading and guidance.