£3.59 approx CA$6.24
View on store
Please note...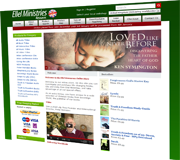 Products are sold through our dedicated shop website which will open in a new window when you add this product to your basket.
Truth & Freedom 24 of 55: Standing In the Gap - MP3 Download
Speaker: Peter Horrobin
69 mins
Are you a threat to the enemy as you stand in the gap?

This CD will help and challenge you to be more effective in intercessory prayer.

Peter encourages you to get to the exciting place where you get rid of your 'props', no longer fear the impossible situations, and actually become a threat to the enemy.

Peter shares radical teaching of what God has revealed to him from the Bible and in his own life about living a life of intercession.

It's important that we understand the authority we have by being in Jesus. As we become more like Him we can pray with confidence, to stand in the gap, and not only hold the ground, but take new ground from the enemy.