£1.99 approx CA$3.46
View on store
Please note...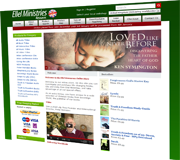 Products are sold through our dedicated shop website which will open in a new window when you add this product to your basket.
Truth & Freedom 22 of 55: No Compromise - Audio CD
Speaker: Jill Southern
65 mins
Do you want to be radical for God?

The passionate teaching on this CD will encourage and challenge you to be a radical Christian who says 'yes' to God and 'no' to the enemy.

Jill shares her own exciting story of how God called her to leave the past behind and take a stand against idolatry in her own life.

She shares how Jesus was politically incorrect and boldly confronted sin and evil.

We too must confront issues such as multi faith practices, homosexuality, addictions, abortion and euthanasia.

Jill concludes by encouraging us to have integrity and a rightful fear of the Lord and verbalises this in a prayer for personal holiness and the Lordship of Jesus in our lives.