£1.99 approx CA$3.46
View on store
Please note...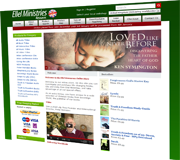 Products are sold through our dedicated shop website which will open in a new window when you add this product to your basket.
Truth & Freedom 19 of 55: Our Covenant God - Audio CD
Speaker: Peter Horrobin
48 mins
Do you understand God's covenant relationship with His children?

Teaching on this CD will give you understanding of the meaning of covenant and help you to enter into all that God has for your life.

Peter explains that God's covenants are an expression of who God is rather than what God has decided to do. They are an expression of his mercy, compassion and kindness.

David, acting as the representative for Israel, defeated Goliath and gave Israel a great victory. Jesus, acting as the representative of mankind, defeated Satan at the cross thus establishing a New Covenant into which we can all enter through Jesus.