£1.99 approx CA$3.47
View on store
Please note...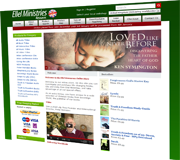 Products are sold through our dedicated shop website which will open in a new window when you add this product to your basket.
Truth & Freedom 15 of 55: God's Amazing Grace - Audio CD
Fiona's sensitive teaching will strengthen you in your spirit. The teaching on this CD will benefit and encourage all those who are seeking inward peace in their relationship with God. Fiona explains how we often live our life controlled by legalism and false guilt which stop us from enjoying the abundant life that Jesus came to give us. Teaching explains the origin of guilt and shame and Satan's work in robbing us of God's purpose in our lives. Fiona brings revelation about the delight God has in our individuality and how we need to exercise our free will. Speaking the truth of Scripture into our spirits Fiona encourages us to receive all that God has made available to us through His amazing grace.