£6.00 approx CA$10.43
View on store
Please note...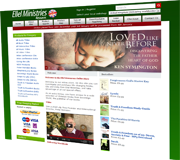 Products are sold through our dedicated shop website which will open in a new window when you add this product to your basket.
Transforming Revival
Speaker: George Otis Jr
6
George helps us to understand a second big reason why we don't get transformation in our community.

Independent lifestyles mean a real loss of community and society is fragmented.

Individuals experience loneliness but it doesn't have to be that way.

Transforming Revival is Main Session Number 10 from the 'Arise' Conference by George Otis Jr.