£19.99 approx CA$34.79
View on store
Please note...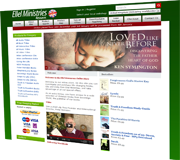 Products are sold through our dedicated shop website which will open in a new window when you add this product to your basket.
The Church in the New Testament
This book is a textbook designed to bring a clearer, richer and fuller understanding of the New Testament Church, both universally and locally. It shows that God has a pattern to which He is working. The text has several unique features about it, these dealing with "The Church and The Kingdom", "The Church in the Old Testament", and "The Church as the New Ethnic."