£110.00 approx CA$191.55
View on store
Please note...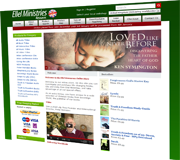 Products are sold through our dedicated shop website which will open in a new window when you add this product to your basket.
Steps to Life Complete Set - MP3 Download
Speaker: Peter Horrobin
52 x 20-30 mins
Download Size 1.2gb as a ZIP file containing 52 individual MP3 files
In this series of half hour talks, originally produced for Premier Christian Radio and broadcast weekly, Peter Horrobin tackles some of the most difficult issues of life in a gentle and sensitive way - presenting solutions and not just highlighting problems.

'The response from people hearing these programmes, from people in all walks of life, has been incredible. People are so hungry for the truth that they will go to great lengths to receive more understanding of God's ways and purpose for their lives. A business man gets all his staff to listen to the programmes. He even takes the phones off the hook and says all his staff have changed so much since they have been doing this. One lady telephoned to say the whole world should hear these teachings! We are never short of testimonies of what God is doing in people's lives as a result. These programmes are a powerful tool in God's hands.'

Derek Puffett, director of Ellel Ministries South Africa (where the programmes have been broadcast twice a week)

'The programmes dealt with the very issues raised by many of our callers. They imparted biblically based teaching and brought hope of healing to God's people. It has been a privilege to partner with Ellel Ministries in both these broadcasts and the wider healing ministry.'

Jonathon Clark, manager of Premier Lifeline, the helpline of Premier Christian Radio, London, England

THE PROGRAMMES

1. Life is for Living
2. The Truth about Mankind
3. Why did Jesus have to Die? -1
4. Why did Jesus have to Die? -2
5. Healing & the Law of God
6. Healing & the Love of God
7. Healing through forgiveness -1
8. Healing through forgiveness -2
9. Acceptance & Belonging -1
10. Acceptance & Belonging -2
11. God's Power for the Body of Christ -1
12. God's Power for the Body of Christ -2
13. Healing & Destiny -1
14. Healing & Destiny -2
15. Setting the Captives Free
16. Worship, Sex and Healing
17. Freedom from Ungodly Soul Ties
18. Kingdom Choices -1
19. Kingdom Choices -2
20. Hope for the sexually Abused
21. A Godly Response to Stress, Fear & Failure -1
22. A Godly Response to Stress, Fear & Failure -2
23. Life's Decisions
24. Healing from Trauma
25. Healing from Day One -1
26. Healing from Day One -2
27. Healing for the Bereaved
28. Our Covenant Keeping God -1
29. Our Covenant Keeping God -2
30. Slaying Goliaths
31. Life According to the Book
32. Dynamic Praying
33. Breaking Free from Addiction
34. An Answer to Pain
35. You are What you Think
36. Freedom from Anger
37. Living in the Promises
38. The Sin of Laziness
39. God is my Comforter
40. Hope for the Childless
41. Revival Power
42. Time!
43. A Baby's on the Way
44. Recreation
45. Retirement
46. When Life Gets Tough
47. Money and Giving
48. Finishing Well
49. Coming Home
50. The Pain of False Comfort
51. God's Christmas Gift
52. Christmas Past to Christmas future

Each of these programmes can be purchased individually at £2.49 each. For details click on the category 'all audio titles'.