£2.55 approx CA$4.43
View on store
Please note...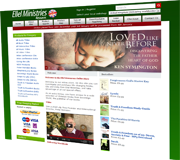 Products are sold through our dedicated shop website which will open in a new window when you add this product to your basket.
Steps To Life 7 of 52: Healing through Forgiveness - 1 - MP3 Download
Speaker: Peter Horrobin
In the first of a two part series on healing through forgiveness, Peter shares some important foundational truths about forgiveness and how it is a vital key to healing.
The teaching highlights the example of Jesus and deals with three particular aspects of forgiveness; God's forgiveness of our own sin, our 'forgiveness of God' and the need to forgive ourselves for the mistakes we have made in our lives.