£2.55 approx CA$4.44
View on store
Please note...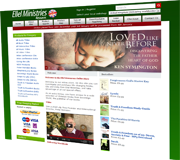 Products are sold through our dedicated shop website which will open in a new window when you add this product to your basket.
Steps To Life 51 of 52: God's Christmas Gift - MP3 Download
Speaker: Peter Horrobin
26 mins
Jesus is God's gift to us, both as the Shepherd and the King. In this teaching, Peter explains that we need compassion and tender care as well as authority in our lives. God is passionate for His children and because He is truth, He is able to exercise authority. His truth and love will set free the person addicted to alcohol or pornography - man's attempt at false comfort. When the choice is made to go God's way, deep pains, shame and broken relationships can be healed and restored.