£2.55 approx CA$4.43
View on store
Please note...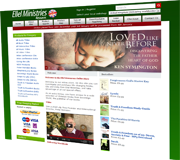 Products are sold through our dedicated shop website which will open in a new window when you add this product to your basket.
Steps To Life 49 of 52: Coming Home - MP3 Download
Speaker: Peter Horrobin
26 mins
Before Jesus went back to heaven he told his disciples that he was going to prepare a place for us - a place which would be our eternal home. For believers heaven is the place where Jesus is, where we can enjoy being home for eternity - it is also the place where we will enjoy His rewards. The gold, silver and the precious stones which Paul talks about which will survive the fire of God's judgment. What an inheritance those who know Jesus have to look forward to!