£2.55 approx CA$4.44
View on store
Please note...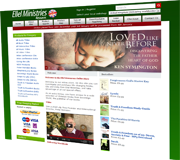 Products are sold through our dedicated shop website which will open in a new window when you add this product to your basket.
Steps To Life 48 of 52: Finishing Well - MP3 Download
Speaker: Peter Horrobin
26 mins
Paul likens the Christian life to a race - a race in which we can choose how we run. Some choose to serve themselves, others choose to serve the Lord, yet others just give up running altogether and opt out of living the Christian life! It is so important that we keep on running the race - right to the end, and do not give up before we reach the finishing line. In this programme Peter urges us to keep on running, being faithful to the end, so that when we cross the finishing line, we will hear His voice saying Well Done!