£1.99 approx CA$3.46
View on store
Please note...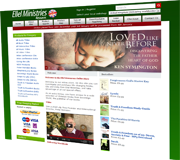 Products are sold through our dedicated shop website which will open in a new window when you add this product to your basket.
Steps To Life 46 of 52: When Life Gets Tough - Audio CD
Speaker: Peter Horrobin
Also available as an MP3 download
26 mins
We live in a hurting and very damaged world where people sometimes have to face huge obstacles on a day by day basis. Life can get really tough at times. How do we respond when things get tough for us? When it seems as though nothing will go right and everything and everyone is turning against us. In this encouraging programme Peter helps us learn from the experiences of God's people who have remained faithful in such times and still been able to fulfil their destiny in God.