£2.55 approx CA$4.43
View on store
Please note...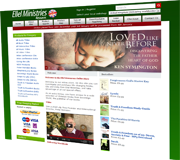 Products are sold through our dedicated shop website which will open in a new window when you add this product to your basket.
Steps To Life 39 of 52: God is my Comforter - MP3 Download
Speaker: Peter Horrobin
26 mins
When lack of love, trouble and hurts afflict our lives, we can be tempted to comfort ourselves with food, alcohol, cigarettes, sex and drugs. But this only leads to bondage. In this teaching, Peter explains that God is the only one who can heal the broken-hearted with His true comfort. We need to learn to receive His love deep within before we can comfort others.