£2.55 approx CA$4.44
View on store
Please note...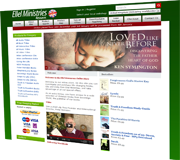 Products are sold through our dedicated shop website which will open in a new window when you add this product to your basket.
Steps To Life 37 of 52: Living in the Promises - MP3 Download
Speaker: Peter Horrobin
26 mins
The Word of God is full of promises but often there are conditions attached to them. These conditions are implicit within the principles for living in God?s Word - these principles help us live with the benefit of knowing of His blessings and the fulfillment of His promises. In this teaching, Peter explains that as we walk in fellowship, relationship & obedience to Him, Jesus is able to fulfill His promises to us.