£2.55 approx CA$4.44
View on store
Please note...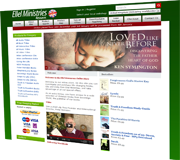 Products are sold through our dedicated shop website which will open in a new window when you add this product to your basket.
Steps To Life 33 of 52: Breaking Free From Addiction - MP3 Download
Speaker: Peter Horrobin
26 mins
In this teaching Peter explains how the physical addictions to smoking, alchohol, over-eating, sex or even over-exercise can also be spiritual addictions. They put us under the control of Satan and can cover up inner pain. By admitting we are out of control and calling on Jesus we can be set free.