£1.99 approx CA$3.46
View on store
Please note...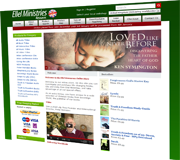 Products are sold through our dedicated shop website which will open in a new window when you add this product to your basket.
Steps To Life 31 of 52: Life According to the Book - Audio CD
Speaker: Peter Horrobin
Also available as an MP3 download
26 mins
The Bible is the most amazing book in the world. It contains everything we need to know about God and everything we need to understand about man. If we want to know how to live, then there is no better guide to life than God?s Book. The Bible urges us not to be wise in our own eyes (do it my way!) but to trust in the wisdom of God. In this challenging and very practical programme Peter shares how the Bible can be a source of incredible blessing to those who choose to live according to The Book.