£2.55 approx CA$4.43
View on store
Please note...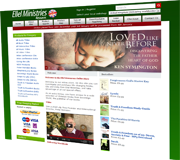 Products are sold through our dedicated shop website which will open in a new window when you add this product to your basket.
Steps To Life 30 of 52: Slaying Goliaths - MP3 Download
Speaker: Peter Horrobin
26 mins
David had learnt to use his sling to devastating effect - so much so that he only needed one of the stones in his sling to slay Goliath, and turn a day of devastation for Israel into a day of victory and joy. In this programme Peter talks about some of the Goliaths that people can face today and of the "stones" God has given us to use in our "sling", so that we can slay them and enter into the joy of God?s victory in our lives - vital keys for effective living.