£2.55 approx CA$4.44
View on store
Please note...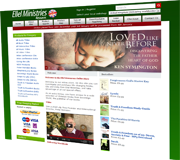 Products are sold through our dedicated shop website which will open in a new window when you add this product to your basket.
Steps To Life 3 of 52: Why did Jesus have to Die - 1 - MP3 Download
Speaker: Peter Horrobin

In the first of a two-part series, Peter beings to answer the question, 'Why did Jesus have to die?' In this teaching, Peter shares about the reality of Satan and how he fell from heaven and temped mankind to sin. The gift of freewill is explained and how man lost his relationship with God when he chose to come under the authority of Satan. Peter also shares how, even at that time, God spoke prophetically about His rescue plan for mankind through Jesus.