£2.55 approx CA$4.44
View on store
Please note...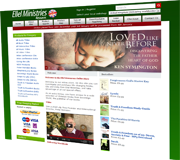 Products are sold through our dedicated shop website which will open in a new window when you add this product to your basket.
Steps To Life 28 of 52: Our Covenant Keeping God - 1 - MP3 Download
Speaker: Peter Horrobin

In the first of two teachings about covenant, Peter explores the truth that our God is a covenant keeping God. He will share understanding about God's heart and His loving-kindness. Peter also teaches about the 10 Commandments and explains how they are an expression of God's heart which gives us a route to blessing rather than just being a set of rules.