£2.55 approx CA$4.44
View on store
Please note...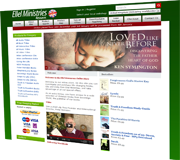 Products are sold through our dedicated shop website which will open in a new window when you add this product to your basket.
Steps To Life 20 of 52: Hope for the Sexually Abused - MP3 Download
Speaker: Peter Horrobin

In this teaching, Peter Horrobin shares about the love of the heavenly Father and how He desires to take those affected by sexual abuse on a journey of healing and restoration.
Real-life testimonies are shared to bring hope to those in need so that they can know that their broken heart can be healed and that they can be released from the long-term effects of the abuse that they suffered.