£2.55 approx CA$4.43
View on store
Please note...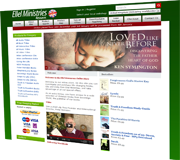 Products are sold through our dedicated shop website which will open in a new window when you add this product to your basket.
Steps To Life 2 of 52: The Truth about Mankind - MP3 Download
Speaker: Peter Horrobin

This teaching shares how God desires us to be whole in spirit, soul and body. It explains how different parts of our being can be damaged, leading to long-term consequences in our lives. Peter shares a message of hope - that God is both able and willing to bring us into freedom so that we can be fully restored in relationship with Him.