£2.55 approx CA$4.43
View on store
Please note...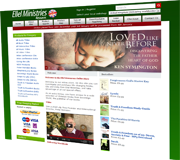 Products are sold through our dedicated shop website which will open in a new window when you add this product to your basket.
Steps To Life 17 of 52: Freedom from Ungodly Soul Ties - MP3 Download
Speaker: Peter Horrobin

In this important teaching, Peter brings an understanding of ungodly relationships and their effect on our lives. The issue of ungodly control is highlighted and practical steps are given to finding freedom - drawing dearer to God and becoming strong enough to stand up against ungodly control in our lives.