£2.55 approx CA$4.43
View on store
Please note...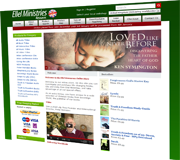 Products are sold through our dedicated shop website which will open in a new window when you add this product to your basket.
Steps To Life 16 of 52: Worship, Sex and Healing - MP3 Download
Speaker: Peter Horrobin

In this teaching, Peter shares sensitively about the issue of Godly sexuality. He shares how sex, within the covenant of marriage, was designed by God and brings worship to Him. Peter also shares how the enemy's plan is to distort sexuality and to draw people into sexual sin.
The teaching also explains God's heart to bring healing and cleansing to those suffering the consequences of sexual sin.