£1.99 approx CA$3.47
View on store
Please note...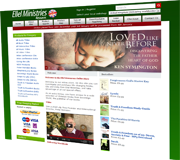 Products are sold through our dedicated shop website which will open in a new window when you add this product to your basket.
Steps To Life 12 of 52: God's Power for the Body of Christ - 2 - Audio CD
Speaker: Peter Horrobin
Also available as an MP3 download

In the second teaching on this important subject about the Holy Spirit, Peter takes time to explain the differences between the gifts and the fruit of the Holy Spirit. He teaches how gifts, both natural and spiritual are given in an instant but how fruit takes time to grow.
This is an essential teaching for all those seeking greater understanding in this area.