£2.55 approx CA$4.43
View on store
Please note...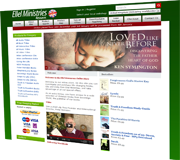 Products are sold through our dedicated shop website which will open in a new window when you add this product to your basket.
Steps To Life 11 of 52: God's Power for the Body of Christ - 1 - MP3 Download
Speaker: Peter Horrobin

In this exciting teaching, Peter Horrobin teaches about the Holy Spirit being a gift from God which enables us to do the things that He has called us to do.
Peter also explains the important differences between the anointing and the baptism of the Holy Spirit and shares how the Holy Spirit is God's promise which is available to all in the Church and empowers us to live the Christian life.