£7.99 approx CA$13.88
View on store
Please note...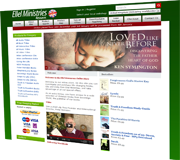 Products are sold through our dedicated shop website which will open in a new window when you add this product to your basket.
Rescue from Rejection
With Biblical foundations evident throughout the teaching the Author helps the reader to understand how our self-identity can be distorted through experiences of rejection. Rejection can be a consequence of unhealed emotional wounds received from as early as conception. Use this book to walk a path of self acceptance and breathe new life into your relationship with others and with God!