£1.95 approx CA$3.40
View on store
Please note...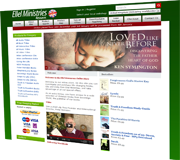 Products are sold through our dedicated shop website which will open in a new window when you add this product to your basket.
Living the Life DVD Study Guide
Author: Paul Griffin
56 pages
The 18-part 'Living the Life' DVD series taught by Peter Horrobin explores important life issues that we all face as Christians.

Using real-life testimonies, parables and illustrations Peter brings clarity and understanding that will encourage and help you to discover how you can live the life to the full!

The DVD series, together with this study guide and the companion paperback book 'Living the Life' by Peter Horrobin, is a brilliant resource that will stimulate personal growth and is ideal for small group use in the local church.