£4.99 approx CA$8.68
View on store
Please note...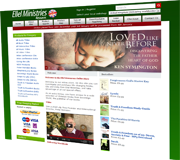 Products are sold through our dedicated shop website which will open in a new window when you add this product to your basket.
Explaining Trust
Author: Tom Marshall
64 pages
In this book, Tom Marshall teaches what the Bible says about trust. He explains its importance in relation to God and others, how trust is established, and can be broken. He helps the reader understand attributes of trust and its counterpart distrust, and teaches us how we can put our trust in others. Marshall provides practical, Biblically supported applications to help you to restore broken trust in your life. Each chapter ends with questions for study so you can fully interact with the teaching, which makes this book an excellent resource for personal or group study.

About the author.

Over the years, Tom Marshall's ministry touched the lives of many thousands of people. He was in great demand as a Bible teacher, and his books on leadership, relationships and healing continue to sell throughout the world in many languages. He died in 1993. Originally from New Zealand, his home was in Sydney, Australia where his wife Gabrielle still lives.

The Explaining Series books have always been amongst Sovereign World's best sellers. Each book is just 64 pages and focuses upon a vital aspect of Christian faith and doctrine. They are written in a style that presents the Bible's teaching with clarity and simplicity.