£4.99 approx CA$8.69
View on store
Please note...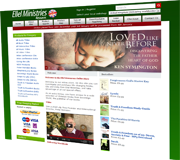 Products are sold through our dedicated shop website which will open in a new window when you add this product to your basket.
Explaining the Holy Spirit
Author: Bob Gordon
64 pages
In this book, Bob Gordon teaches what the Bible says about the Holy Spirit. There can be a hesitation among Christians to accept who the Holy Spirit is and what He does. Bob Gordon uses Scripture to explain this and encourages us to receive the baptism of the Holy Spirit. He details what spiritual gifts the Holy Spirit offers according to the Bible,and how the Holy Spirit can illuminate your Christian walk. Gordon testifies to how he came to receive the Holy Spirit, and provides steps and a prayer so you can receive the Spirit for yourself so you can walk in the fullness of the Christian life.
The Explaining Series books have always been amongst Sovereign World's bestsellers. Each book is just 64 pages and focuses upon a vital aspect of Christian faith and doctrine. They are written in a style that presents the Bible's teaching with clarity and simplicity.