£11.99 approx CA$20.89
View on store
Please note...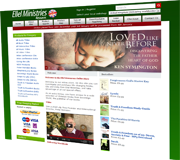 Products are sold through our dedicated shop website which will open in a new window when you add this product to your basket.
Day by Day with the Persecuted Church
Contains practical reflections that are based on the Word of God and the experiences of people who have suffered for their faith in Jesus Christ. This book features more than twenty-five spiritual leaders who have personally experienced what it means to be a Christian in an anti-Christian environment.