Testimony
I found the oasis, here is a spring with living water. I was drinking out of it and got life back.....
Read More...
£1.99 approx €2.30
View on store
Please note...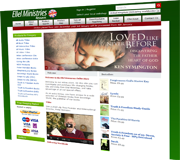 Products are sold through our dedicated shop website which will open in a new window when you add this product to your basket.
Steps To Life 19 of 52: Kingdom Choices - 2 - Audio CD
Speaker: Peter Horrobin
Also available as an MP3 download

Kingdom Choices is a two part teaching taken from a conference in Sydney, Australia where Peter teaches on vision, faith and obedience. This is a challenging message which will inspire you to learn how to hear God's voice for yourself and to follow Him whatever the cost. The teaching contrasts the difference between making choices for the Kingdom of God and the flesh and will encourage you to deal with those things that hold you back so that you can truly be a living sacrifice for God.