Testimony
I felt such peace overcome me as I let go of my pent up frustrations and guilt...I truly do not know where I'd be today if it wasn't for my Daddy God lifting me out of the darkness and into His loving arms! ....
Read More...
CA$14.50 (CAD)
View on store
Please note...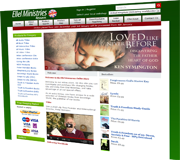 Products are sold through our dedicated shop website which will open in a new window when you add this product to your basket.
The Fasting Key
When the author began to study the subject of fasting some years ago he was shocked by the number of biblical references he found referring to it. Clearly fasting was not some biblical "side issue", but a central element of spiritual life. Fasting is a discipline that has been practised by many influential men and women of God throughout church history with dramatic results. The author says, "Fasting has become an essential part of my walk with the Lord. It continues to amaze me that I lived for so long without this key that unlocks so many blessings." Using the metaphor of a key, this book discusses how Fasting will unlock the blessings of God.