CA$14.00 (CAD)
View on store
Please note...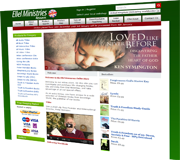 Products are sold through our dedicated shop website which will open in a new window when you add this product to your basket.
Standing in the Gap - Understanding Intercession
Intercession is more than just prayer. It means 'to go in between' and is an ongoing commitment to remain in a position before God for a particular situation until 'the case has been solved'. This book covers areas such as: the principle of the body; prophetic intercession; being available; confidence and trust; power tools for prayer; and more.