Testimony
I signed up for the 365 Ellel course about two years ago and I am still not finished on the course, however, about a year ago I was set free from a spirit of insecurity through personal ministry at a church one evening. ....
Read More...
CA$18.00 (CAD)
View on store
Please note...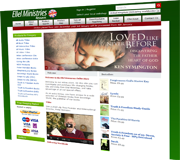 Products are sold through our dedicated shop website which will open in a new window when you add this product to your basket.
In God's Image
Unveils our deepest human needs and puts our universal problems into godly perspective. This work reveals God's character in profoundly tangible ways. It presents a series of teachings divided into study days but can be just as easily read through.